Community Events
Stay up-to-date with what is happening in your region this month.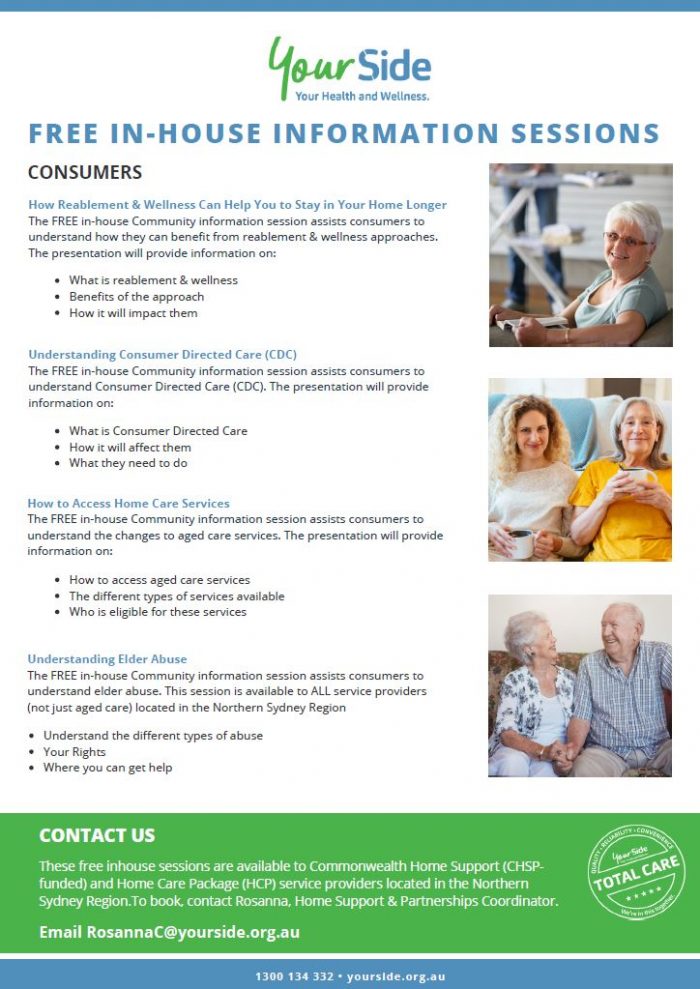 Free in-house information sessions – Your Side
These free inhouse sessions are available to Commonwealth Home Support (CHSP-funded) and Home Care Package (HCP) service providers located in the Northern Sydney Region. To book, contact Rosanna, Home Support & Partnerships Coordinator.
Social Housing Services in Northern Sydney
Link Housing, SGCH and Bridge Housing with Women's Housing Company are working collaboratively to lead the social housing system in Northern Sydney. Community housing providers, Link Housing, SGCH and Bridge Housing in partnership with Women's Housing Company, have taken over the management and coordination of the social housing service system in Northern Sydney as the NSW Department of Communities and Justice (formerly the Department of Family and Community Services) has transferred the delivery of housing services under the Social Housing Management Transfer program.
Family and Carer Mental Health Support
Parramatta Mission runs various support events for families and carers. Their October 2019 newsletter contains details of these events.
National Carers Week 2019
National Carers Week recognises and celebrates the outstanding contribution Australia's 2.7 million unpaid carers make to our nation. We have a range of FREE events for local carers on the Northern Beaches.
Free 6-week aqua-natal program
Willoughby Leisure Centre is hosting a 6-week aqua-natal program commencing Thurs 10th Oct (till Thurs 14th Nov). Child-minding is available for free during the class. Bookings essential: call 9958 5799.
Carers' support computer project – MyGov/NDIS
This course is for those who wish to know more about accessing the computer and safely navigating the internet with a focus on the MyGov and NDIS portals.
When: Classes will start Tuesday 15th Oct 2019 and run for 9 weeks
Time: 10am to 3pm
Where: Brookvale Campus of TAFE NSW
Cost: see flyer
More info: contact bryony.gliddon@tafensw.edu.au or see flyer for more details
Qi Gong for Mental Wellbeing Workshops
Presented by Angela Tian Zhu
When: 17th and 20th Oct 2019
Time:
17th Oct: 1pm – 2pm
20th Oct: 10:15 – 11:15am
Where: International Convention Centre, Darling Harbour (Sydney). Venue location: Entry via Hall 2, Level 2
More information:
Angela Tian Zhu 0411203244 or angelazhu@traditionalqi.com
Community Consultation: Improving access to health services when your doctor is closed. 
Do you live on the Northern Beaches? Join us for a community consultation on Thursday 17th October 10am-12 noon at the Dee Why RSL. This is your opportunity to help shape the future of after hours services in your community when your doctor is closed. Everyone is welcome!
When: Thursday 17 October
Time: 10am to 12 noon
Where: Dee Why RSL – Oaks Room. 932 Pittwater Rd, Dee Why, NSW 2099
Cost: free
How: To book contact Debra Clark on 02 9432 8250 or afterhours@snhn.org.au
How to know if your teen needs Mental Health Support and who to talk to first.
An opportunity for parents and carers to get clear information from mental health experts and to ask important questions.
Date: Wednesday 23rd October 2019
Time: 6:30pm – 8:30pm
Venue: Stanton Library – 234 Miller St, North Sydney
RSVP: Book Now @ Eventbrite  click here
Money Jungle: Money Basics for kids – An Introduction
Topics covered include – history of money, how money is earned and uses of money.
When: 19th October 2019
Time: 10am to 11am (drop off from 945am)
Where: North Sydney Community Centre, Jacaranda Room
Cost: $15 per child, max 10 kids per class
How: Get tickets from eventbrite link on Facebook page MoneyJungleAus
Catholic Care Term 4 Programs 2019
Naremburn & Northern Beaches Family Centres will be running the following groups throughout October 2019.
Healthy Body Healthy Mind EXPO
Discover how to care for your whole mind and body, with more than 20 different health providers and practitioners available to answer your questions.
When: Tuesday 29 October 2019
Time: 10.30am – 1pm
Where: Hornsby Mall, Florence St, Hornsby
How: For more information contact Jian on 9847 6994 or email jzhao@hornsby.nsw.gov.au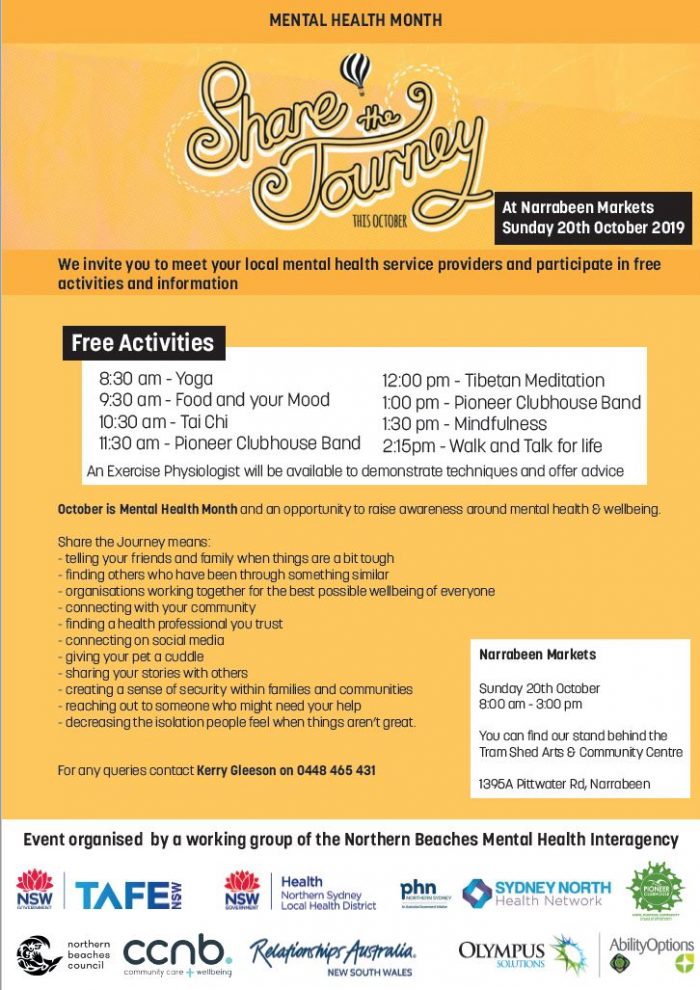 Share the Journey at Narrabeen Markets for Mental Health Month
We invite you to meet your local mental health service providers and participate in free activities and information.
When: Sunday 20th October
Time: 8.00am – 3.00pm
Where: Behind the Tram Shed Arts and Community Centre. 1395A Pittwater Rd, Narrabeen
For any queries contact Kerry Gleeson on 0448 465 431
Information Session – Housing Pathways & Social Housing Services
Meet your local community housing provider and find out about Housing Pathways and social housing assistance in Northern Sydney.
Community housing providers, Link Housing, SGCH and Bridge Housing in partnership with Women's Housing Company, have taken over the management and coordination of social housing services in Northern Sydney. We are providing regular information sessions on how the NSW Government's system of Housing Pathways operates, the types of social housing assistance available and how to support your client's application for assistance.
Date: Tuesday 5th November
Time: 12.30pm – 2.30pm
Venue: Community Northern Beaches, 12 Wentworth St, Manly
RSVP: If you would like to join, please email pathways@bridgehousing.org.au
Power, control and psychological abuse – an evening with Jess Hill, journalist and author of 'See what you made me do'
Jess Hill will give insight into psychological abuse and coercive control in relationships. A community-driven event to raise public awareness of coercive control, providing support, empowerment and dignity to those impacted.

Date: Thurs 7th November
Time: 6:00pm – 8:30pm
Venue: Johnson Hall, Crows Nest Centre, 2 Ernest Place, Crows Nest
Cost: $15 (includes refreshments)
Bookings essential: visit BIT.LY/JESS-HILL-COERCIVE-CONTROL
For more information contact Gai Lloyd at callingoutcoercivecontrol@gmail.com
Parents Prepared: Starting the conversation with young people about drugs
Sydney Drug Education & Counselling Centre (SDECC) will be delivering "Parents Prepared", a one day drug education workshop for parents of high school aged children on 16th November 2019 from 10.00am to 4.00pm. This free workshop will provide parents with information about drugs, their effects and tips for talking to young people about drug use.
When: Saturday 16th November 2019
Time: 10.00am – 4.00pm
Where: Coastal Environment Centre, Entrance Pelican Path, Lake Park Rd, North Narrabeen
Presenter: Belinda Volkov, Cliniacl Coordinator, SDECC
Cost: Free
RSVP: visit https://www.trybooking.com/BEZZS to register
Healthy Ageing for Culturally and Linguistically Diverse (CALD) Older People in the Northern Sydney Region
A free forum and expo for staff, volunteers and community leaders working with older people from CALD backgrounds in the Northern Sydney Region:
Prevention of Frailty
Falls Prevention
Anxiety and Depression
Dementia and Delirium
Abuse of Older Persons
Interpreting Services
Services for Older People and their Carers
A full program will be emailed to registrants prior to the event
Morning tea will be provided.
When: Thursday 28th November 2019
Time: 8.30am to 1.00pm
Where: Dougherty Community Centre, 7 Victor St, Chatswood
Cost: Free
RSVP: To register for this free forum click here.