&gt
&gt
Low Intensity Mental Health Services
Low Intensity Mental Health Services
Better mental health begins with a phone call to 1300 120 446
Description of Services
Way2Wellness
Are you or someone you know struggling with mental health wellbeing?
Lifeline's Way2Wellness is a Low Intensity Mental Health Service available for people who are feeling stressed, anxious, lonely or just not their usual selves.
The service provides free telephone counselling as well as connecting people with mental health resources and local services to help get themselves back on track.
For more information about the service visit: way2wellness.org.au
Healthy Minds
Meet Eva, your FREE digital coach for anxiety & depression.
Created by Clevertar the Healthy Minds program will guide you through a tailored program to help you make changes to improve how you feel.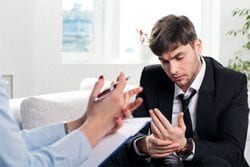 How to access the services
Way2Wellness
People can access Way2Wellness directly or via a referral from their GP.
Direct access:
Individuals can access the service directly by:
Calling Way2Wellness directly on 1300 120 446 OR
Completing a contact form at way2wellness.org.au to request a call back
If you would like more guidance or advice about whether this service is appropriate, please consult your GP.
GP Referrals:
GPs can refer people through the Mental Health Triage on 1300 782 391, send a completed Referral Form via secure fax on 02 8072 6899 or direct patients to call the service on 1300 120 446.
Healthy Minds
Individuals can use their smartphone, tablet or laptop to access the Healthy Minds platform.
For more information on Healthy Minds, click here.