SNHN aims to reduce the incidence of vaccine preventable diseases in the community by providing information on the National Immunisation Schedule and support to immunisation providers and the community. In collaboration with the Public Health Unit, we can identify areas with lower immunisation rates, support strategies including data cleansing, cold chain management and use of AIR reports to aspire to rates above 95%.
Contact
About AIR
AIR is the register of vaccinations given to people of all ages in Australia, and supersedes the Australian Childhood Immunisation Register (ACIR). AIR records vaccinations given through general practices and community clinics; it does not include those provided through school vaccination programs (catch up HepB, varicella, dTP). As of 1st January 2019, all records held in the HPV Register have been transferred to the AIR.
People of all ages enrolled in Medicare are automatically included on the AIR.
It does not automatically update retrospective vaccinations. Read more about AIR history.
If you have already registered but lost your logon details, please email air@humanservices.gov.au or contact the AIR support line on
1300 650 039.
Alerts and Updates
SEASONAL INFLUENZA VACCINATION 2019
HUMAN PAPILLOMAVIRUS (HPV) VACCINE
New access arrangements under NIP Supporting No Jab No Pay, National Immunisation Program – Expansion for refugees and humanitarian entrants aged 20 years and over in addition to free catch-up vaccines for all individuals aged 10 to 19 years – July 11 2017 – see Resources.
NSW Vaccination Centre – online ordering

The URL of the NSW Vaccine Ordering System has changed to https://nsw.tollhealthcare.com/
Please save this URL in your favourites. The new URL is operational and users should move to it as soon as possible.
Phone 1300 656 132 and fax 1800 041 528 remain the same.
This App is an easy-to-use reminder tool to help parents ensure their children are vaccinated on time. Just enter your child's name, date of birth and postcode and the app creates a personalised immunisation schedule and sends you a series of reminders when it's time to book appointments.
The app is intended as a planning and reminder tool. Complete records of the vaccinations your child has received are available from the Australian Childhood Immunisation Register (ACIR) on 1800 653 809.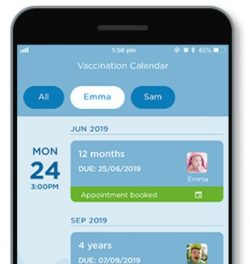 Resources
Department of Health – Immunisation for health professionals
Public Health Unit (Northern Sydney)
1300 066 055 or fax: 9477 9019
The Public Health Unit provides health protection services to the people of the Northern Sydney Local Health District which extends from Sydney Harbour to the Hawkesbury River.
Cold Chain Management
Domestic fridges are no longer considered appropriate for vaccine storage. Therefore, providers that have domestic or bar fridge should make arrangements to purchase a purpose built vaccine refrigerator to continue to receive government-funded vaccines.
All practices are now required to perform weekly data logging. Information on data loggers is available through the public health unit.
Community Information
Immunisation is a simple, safe and effective way of protecting you and your family against harmful diseases that can cause serious health problems and sometimes death.
Local Council Immunisation Clinics