Lynelle Hales
Chief Executive Officer
Lynelle Hales is an accomplished health executive who brings over 20 years' experience in executive health and social care leadership roles at local, state and national levels across the Australian and UK health systems. Lynelle has led the design and delivery of innovative approaches to healthcare, including strategic planning, service redesign, integrated commissioning, and working in partnership to deliver transformational change.
As CEO of Sydney North Health Network, Lynelle is advancing strong strategic alliances to lead localised and responsive health commissioning that result in holistic care for the community, wrap-around services and system integration with primary healthcare as the foundation.
Lynelle Hales is a Registered Nurse, and holds a Bachelor of Health Education, Masters in Health Planning, and is currently completing a Doctorate in Applied Public Health. Lynelle is also a graduate of the Australian Institute of Company Directors.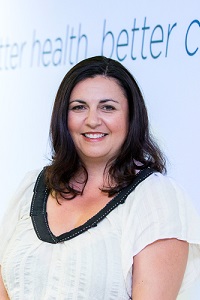 Cynthia Stanton
Chief Operating Officer
Cynthia Stanton is a healthcare professional with over 12 years' experience developing and implementing primary care programs to support healthcare professionals and integrating health services to improve the patient journey. Her extensive knowledge of the Northern Sydney region comes from experience working previously in both the Division of General Practice and Medicare Local.
Cynthia has led successful primary care and integrated care programs including Sydney North's Person Centred Medical Home program, Primary Care Nurse Transition program and Primary Care Education program, which has supported growth and development for local health professionals and strengthened the delivery of local primary care to patients.
At Sydney North Health Network, Cynthia leads the Primary Care Advancement and Integration team, who are focused on building primary care capacity through quality improvement, development of local health pathways and connecting health providers through digital health to support smoother transitions of care and the delivery of a simplified healthcare system for our community.
Cynthia's knowledge of the primary care sector and understanding of the importance of integrated care in the patient's healthcare journey is backed by a Bachelor of Science, Pharmacology.
Jim Keech
General Manager – Strategy and Innovation
Jim Keech is a senior healthcare leader with extensive experience in strategic healthcare planning in response to population health needs within the United Kingdom and Australia primary care setting. Qualified with a Master of Science, Public Health, Jim is a passionate advocate for health system reform and sustainability. Jim is responsible for implementing the integrated commissioning strategy for Sydney North Primary Health Network which is focussed on delivering new and innovative mental health, alcohol and other drugs and hospital avoidance primary care services across the region.
Ramon del Carmen
Chief Financial Officer
Ramon del Carmen is a senior organisational leader with extensive experience in highly competitive and heavily regulated environments including commercial banking and telecommunications as well as the not-for-profit health sector.
He combines innovation and strategic thinking with strong leadership to deliver results in challenging environments that are undergoing significant and time-critical change.
Prior to joining Sydney North Health Network, Ramon was the CEO of Primary and Community Care Services Limited (PCCS), Northern Sydney Medicare Local and St John of God Health Care's two private psychiatric hospitals in NSW.
Ramon holds a Bachelor of Economics degree from the University of Sydney and an MBA and Master of Arts (Business Research) from Macquarie Graduate School of Management (MGSM). He is a Chartered Accountant and a Graduate of the Australian Institute of Company Directors (AICD).