&gt
Workforce
&gt
Careers at SNPHN
&gt
Work at Sydney North Health Network
Work at Sydney North Health Network
Applying for Roles
It is easy to browse our roles on offer – just go to the Current Opportunities page.
If you find a job that matches your skills and preferences, we'd love to hear from you.
Simply complete and submit an online application.
What Happens Next?
Being open and transparent is important to us, and we'll work to keep you informed of your progress throughout the application and interview process. After you submit an application, you'll receive an email acknowledgment and we will review your application and either email you or call you with more information.
We apply best practice assessment and selection methods which vary depending on the role you apply for.
Equal Employment Opportunity
Sydney North Health Network (SNHN) is an Equal Employment Opportunity (EEO) employer. We provide a workplace where decisions, processes and practices are fair, clearly defined and based on merit. EEO principles apply to all aspects of the employment relationship, including recruitment and selection.
If you have a disability and need some help with the application process, please contact our recruitment team on (02) 9432 8245.
Culture & Diversity
Sydney North Health Network is committed to providing a diverse and inclusive working environment where people choose to work. We strive to maintain an open culture, in which everyone is a contributor and feels comfortable sharing ideas and opinions. In our weekly update meetings employees share information and are able to ask questions directly to our CEO and other Executives about any number of organisational issues.
Our office space is designed to encourage interactions between individuals within and across teams, and to inspire conversation about work as well as outside interests. Our teams regularly enjoy lunch together in our large kitchen area and we have a social committee that organises regular events for staff to enjoy.
The SNHN Executive Team and Board support a diverse and inclusive workplace at all levels of the organisation and believe this will build a culture of openness, where all ideas are respected, and innovation is fostered. We want to help our people to be their best, so we can make a real difference to both our organisation and our community in primary healthcare.
The Human Resources team at SNHN is dedicated to providing expert support to all employees for recruitment, professional development, career management, benchmarking, performance management, employee and industrial relations, work health and safety, workers compensation and rehabilitation.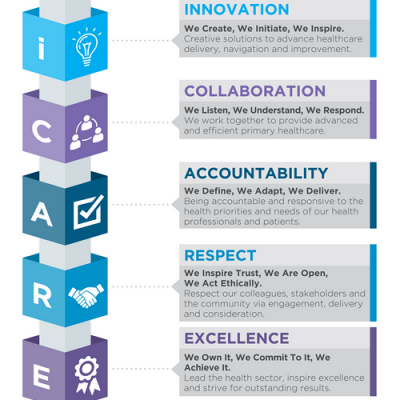 These values are the foundation of our workplace culture and are embedded into all our systems, policies and procedures. Underpinning our values are behaviours that all individuals will own, demonstrate and live on a daily basis.
These values are embedded into our entire organisation by designing systems and processes that incorporate these constructive behaviours. From our recruitment and selection processes, through to our engagement, well-being and reward and recognition program that support the high performing culture we are striving for, our values continue to form the foundation off which we build and grow.
People & Passion
At Sydney North Health Network we're creating an environment where talented people can shine. Our environment offers guidance, yet is flexible enough to allow you to make the most of your life, both professionally and personally. You'll find supportive and like-minded people that empower you to make a difference.
We welcome innovative thinking; we support career aspirations; and we recognise and invest in the development of our people.
Equal Employment Opportunity
My Development
We are committed to attracting and retaining the best talent in our industry and offer a range of career development opportunities. We focus on your capability development to provide learning programs and coaching to help you achieve your career goals.
Leadership
Sydney North Health Network needs great leaders to deliver our strategy of providing integrated health services across local communities to make it easier for anyone, to access a range of health care providers. We work with closely with our leaders to create individual plans to help them understand leadership expectations and have dedicated support and regular coaching to help them to be successful.
You First
We are committed to our investment in you and as such we aim to promote our internal talent over any external candidates. We aim to provide exciting opportunities for employees who demonstrate potential. We love injecting new ideas and attitudes into our teams.
Benefits & Wellbeing
Our benefits are part of who we are, and they're designed to take care of you and keep you healthy, whether physically, emotionally, financially or socially. Our benefits exist to make sure that you are well taken care of. Your family matters to you, so they're important to us, too.
We have a number of benefit programs to support you and your loved ones.
Employee Assistance Program
We offer free access to a 24 hours a day, 365 days a year confidential counselling service to employees and their immediate family to support and improve our employees wellbeing.
Let's Celebrate Living the Values
At SNHN we constantly strive to make our employees feel valued and appreciated for all of their hard work and contributions to the organisation. We recognise that showing appreciation for the big and little things that our employees do, make all the difference when it comes to retaining and engaging them.
Let's Celebrate is our internal reward and recognition program to celebrate a colleague or team whom is living the SNHN iCARE (Innovation, Collaboration, Accountability, Respect, Excellence) values and doing an all-round great job. The program is a great opportunity to nominate peers and celebrate each month our individual and team successes!