&gt
About
&gt
Our Purpose
&gt
What is a Primary Health Network?
What is a Primary Health Network?
On 1 July 2015, the Australian Government established 31 new Primary Health Networks (PHNs), following a review by its former Chief Medical Officer, John Horvath.
The Horvath review recommended that new, larger primary health organisations be established to reduce fragmentation of care by integrating and coordinating health services, supporting the role of general practice, and leveraging and administering health program funding.
PHNs have been established with key policy objectives of increasing the efficiency and effectiveness of medical services for patients, and improving coordination of care. The Northern Sydney PHN is operated by the Sydney North Health Network (SNHN) and is focused on enabling the people in the Sydney North region to care for their own health and effectively navigate a complex healthcare system. This is achieved by providing better information, education, and networking opportunities for health professionals, establishing connections across the health system, and working with partners to deliver a better experience for health providers and better healthcare to the community.
PHNs provide an unprecedented opportunity to focus efforts at a regional level to achieve better whole of system care. They engage and coordinate across the care continuum to support services to do the right things (improve effectiveness) and to do things right (improve efficiency) to best meet the individual needs of health consumers in their local area and provide better value for money.
Sydney North Health Network recognises that with change comes opportunity. The PHN has an important role to drive, support, and strengthen primary healthcare in the Northern Sydney region. SNHN is completely focused on striving towards achieving the quadruple aim – better health, better care, better value, and a sustainable workforce.
SNHN plays an important role in leading strategic, regional level commissioning to drive service improvement and achieve system change. This involves understanding the health status of our local population, the services available within the region, identifying where the gaps are and working with services to ensure they meet the needs of the community. SNHN does this by working together with a network of health professionals including general practitioners, primary care nurses, allied health providers, the Northern Sydney Local Health District (NSLHD), private hospitals, private health insurers and other health and social care service providers. This partnership approach and community focus is reflected in our vision:
Achieving together – better health, better care.
What is a PHN, how do they work, and what do they do?
PHNs are local independent organisations set up to improve patient care in their PHN regions and make primary healthcare more efficient and effective. Our expert and experienced staff work closely with GPs, specialists, pharmacies and other health services to build capacity to deliver high quality patient-centred care and improve health outcomes.
PHNs support care coordination, data, GP-referred services, clinical decision support, digital health, practice accreditation, quality improvement, grants and assistance, and training.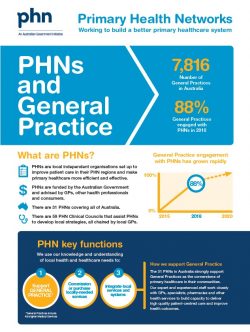 What is commissioning, how is it used by PHNs, and how does it support local healthcare?
Commissioning is the process by which services are planned, purchased and monitored.  PHNs seek to know and understand local health challenges, the areas of greatest need, and the services and support currently available. If there are gaps between needs and available services and support, PHNs work to fill those gaps through commissioning of local services and supports.
What is integrated care?
Integrated care involves care that reflects each person's health and social needs. PHNs work collaboratively within their regions to integrate health services and systems at the local level to create better experiences for patients; gains in health outcomes; encourage better use of resources and eliminate service duplication. Integrated care seeks to improve patients' experience of care to ensure it is timely, affordable, culturally safe, and meets their needs, closer to their homes and where possible, within their communities using primary care services.