Digital Health
Secure and timely exchange of health information is a core foundation of Australia's expanding digital health program and one that is being widely promoted by the Sydney North Health Network across the region's primary care sector. Tools such as the My Health Record, shared care planning platforms and secure messaging have the potential to draw together patient information stored in disparate information systems to improve patient safety and provide more comprehensive, integrated care for our community.
Sydney North Health Network provides ongoing support for GPs, Pharmacy, Aged Care, Allied Health, Specialists and other healthcare providers choosing to participate in the national digital health system. This includes:
Assisting practices to register for the My Health Record system;
Supporting accredited GP practices to meet the requirements for the Digital Health Practice Incentive Payment;
Training healthcare providers to access and contribute to the My Health Record;
Increasing the adoption of secure messaging technology for electronic referrals, improved medication concordance and safer exchange of patient health information;
Facilitating practice engagement with clinical data collection; and
Promoting integration with local hospital clinical information systems.
The next twelve months will herald an exciting phase of growth for our region's digital health network with the My Health Record set to extend to all Australians, an increasing focus on interoperability between health care services and greater patient involvement in the direction of their own health care.
Read more about Australia's National Digital Health Strategy here:
My Health Record

On Thursday 15 Nov. the Australian Senate passed the My Health Records Amendment (Strengthening Privacy) Bill 2018. If this legislation is passed by the House of Representatives on the week commencing Monday 26th November with no changes it will become law.
A summary of the legislative changes passed by the Australian Senate is available on the Australian Digital Health Agency, find out more here.
All you need to know brochure – languages other than English
SNHN Digital Health Manager Eric Dunn explains why you should have a My Health Record
Dr Hans Blom explains how My Health Record helps GPs
Carer Rose O'Donnell's Story: My Health Record – Why leave my Health on Record?
Role of digital health in supporting co-ordinated care
My Health Record case study
Kelly Powell and local GP Dr Meredith Makeham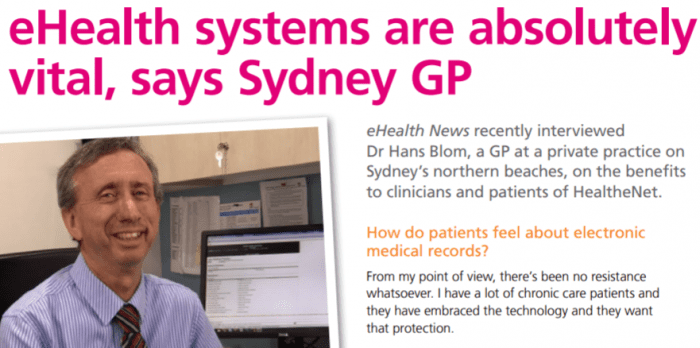 eHealth News interviewed Dr Hans Blom, a GP at a private practice on Sydney's northern beaches – Read more
Practice nurses speaking about the benefits of My Health Record
(APNA Conference, May 2016)
Sharon Hills from St Kilda Medical Centre, Victoria, speaks about the benefits of the My Health Record system.
Genie McMullen, Cobar Primary Healthcare Centre, NSW, speaks about the benefits of the My Health Record system.
Del Lovett, Montgomery Street Medical Centre, Victoria, speaks about the benefits of the My Health Record system.
Michelle Lambert, Walk-In Centre, ACT, speaks about the benefits of the My Health Record system.
Resources
Healthcare Providers on the Benefits of Digital Health

eHealth News interviewed Dr Hans Blom, a GP at a private practice on Sydney's northern beaches – Read more
Role of digital health technologies in supporting co-ordinated care – Watch video
Digital Health training resources

Digital Health in Practice Guide

Find out how to access a patient's My Health Record and upload a Shared Health Summary and Event Summary
Understand how to develop a plan for your own practice data to meet safety, accreditation and practice incentive requirements
Learn to access and utilise reports related to My Health Record and quality improvements