&gt
Partnerships
&gt
iSOLVE Fall Prevention
The iSOLVE project, a partnership between the University of Sydney, the NSW Clinical Excellence Commission and Sydney North Health Network (SNHN), aims to establish integrated processes and pathways between general practice, allied health services and programs to identify older people at risk of falls and engage a whole of primary care approach to falls prevention.
Falls can be prevented – help your older patients prevent falls and stay independent
Falls are common in older people but they can be prevented.
Do your older patients relate to either of the following risk factors?
Having had a fall or worried about falling
Unsteadiness when walking
Conditions that impact mobility such as diabetes, stroke, arthritis
Taking psychotropic medications
Polypharmacy
Poor vision
Dizziness
Urge incontinence
Clutter in the home
Developing routine for fall prevention in general practice.
For more videos on the role of health professionals in preventing falls in older people please click here.
GP Resources
Prof Lindy Clemson and a team of multidisciplinary researchers including GPs have developed a clinical decision tool and resources based on the latest research evidence and practice guidelines.1-4 We anticipate that these will help GPs and practice nurses identify people at risk of falling and provide tailored management options. GPs are also offered a directory of trained fall prevention service providers in their local area to facilitate patient referral.
The clinical decision tool, resources and referral directory are now available online through the iSOLVE tool button below. Please contact Alex Jaksetic by email ajaksetic@snhn.org.au if you would like educational visiting to be organised.
Download resources
Education
Software partnership
Decision tool, information and resources within

SNPHN HealthPathways
HotDoc reminder to prompt patients to discuss with their GPs or practice nurses about preventing falls
Allied Health Resources
SNHN offered various workshops to health service providers to facilitate referral pathways and implementation of evidence-based fall prevention interventions. SNHN will continue to promote future fall prevention workshops through the Education Events page. You may wish to view some of the recorded workshops here: www.falls.armchairmedical.tv.
If you are a community-based service provider and have undertaken fall prevention training with SNHN or another organisation, you may wish to be listed as a provider for patient referral from GP practices for interventions relevant to your practice. To express interest please contact Alex Jaksetic by email ajaksetic@snhn.org.au.
Other training options and resources
LiFE (Lifestyle-integrated Functional Exercise) Program
Patient Resources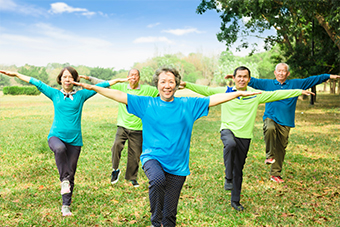 About the iSOLVE project
Research protocol paper and iSOLVE investigators
Clemson et. al. 2017 Integrated solutions for sustainable fall prevention in primary care, the iSOLVE project: a type 2 hybrid effectiveness-implementation design

Project aims
To establish integrated processes and referral pathways at levels of GP practice and allied health services to identify older people at risk of falls and engage a whole of primary care approach to fall prevention.
To form collaborative, information rich, working arrangements with GPs and allied health service providers.
To improve access to appropriate fall prevention interventions for older people, ensure ongoing knowledge acquisition and sustainable action by healthcare professionals and organisations, using a multidisciplinary team approach to fall prevention that is integrated and translatable nationally.

Falls and their economic impact
One in three people living in the community aged 65 years and over fall each year.
Fall-related injuries accounted for the majority of all hospitalised injury cases among people aged 65 and over.5 Common injuries were hip fractures and head injuries which accounted for three-quarters and one-fifth of injuries respectively.6 One in every 10 days spent in hospital by a person aged 65 and older was attributable to an injurious fall, equating to 1.3 million patient days over the year. The average total length of stay per fall injury case was estimated to be 14 days.6
Hospitalisation rates in Northern Sydney have been consistently higher than the NSW average. In 2011-12, the rate of hospitalisations from falls was 5,362 per year per 100,000 population in the Northern Sydney LHD.7
Recovery from injury can be a lengthy process, which can include surgeries and rehabilitation. Research reported physiological effects such as functional decline, inactivity, loss of independence, depression and loss of confidence.8,9
Injury due to a fall is one of four principal diagnoses that increased the likelihood of a transfer to residential aged care (permanent or respite) from hospital.10
One of the main causes of injury deaths in 2011-12 were unintentional falls (35%); and over 94% of fall-related injury deaths were at ages 65 and older.11

Evidence & recommended solutions
There is strong evidence that balance and strength exercises, home safety interventions and medication reviews are effective in preventing falls in older people. These are three core effective strategies recommended in the latest Cochrane Database of Systematic Reviews on Fall Prevention Interventions for older people living at home.2
A meta-analysis of exercise interventions for fall prevention by Associate Professor Cathie Sherrington found that exercise reduced the risk of falling by 16%.12
Professor Lindy Clemson conducted a meta-analysis of randomised trials of environmental interventions and found a significant reduction in the risk of falling of 21%, with higher effects for those frailer or recently hospitalised.13
Dr Sabrina Pit led a successful randomised trial which demonstrated the value of medication reviews by GPs who had been updated on fall risks by a trained pharmacist.14

Implementation barriers to fall prevention strategies
Older people think that a fall may just be a part of 'ageing' and do not think that they can actively do things to prevent a future fall. In contrast, it has been reported that GPs do not routinely ask older people if they have had a fall.15 These contribute to the lack of discussion about falls and fall prevention between the patient and the GP.
A lack of engagement of multiple stakeholders in falls prevention.
Health providers reported a lack of consultation time, the need to focus on more pressing health issues, and a lack of educational materials.
Not many community-based organisations regularly offer evidence-based falls prevention services.
There is no clear model for how fall prevention services can be effectively delivered in primary care.16
Current practice which solely rely on referral to health care providers have been shown to be ineffective.17,18 This highlights the need for active involvement of health care providers in promoting fall prevention management strategies.
The lack of fall prevention pathway has prompted the iSOLVE research project to develop an all-round structured process to implement systematic fall prevention in general practice.1 This includes clinical decision tool, education and resources for GPs and practice staff, as well as upskilling training for allied health professionals. If GPs are able to routinely identify older patients at risk of falls, they could develop care plans targeting at managing fall risk factors and referral for evidence-based interventions.19-21