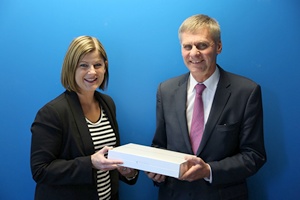 Sydney North Health Network (SNHN) wrapped up the financial year with a region wide membership drive speaking to GPs, Pharmacists, Psychologists, Practice Nurses and other Allied Health Providers about the benefits of becoming a member. As an added incentive all members who joined in the period went into the draw to win one of three new iPad Pros.
Carrie Leung, a Pharmacist from Berowa Heights was the first to be drawn. Her interest in joining the Network was based around providing the best possible treatment for the customers in the community pharmacy where she works. "We are often the first point of contact for anyone with a health related issue," she said "I'm interested [in joining SNHN] to see what sort of healthcare services are available in the region, and how patients can be referred to access these."
Her reason was echoed by the other two winners; St Leonards based Clinical Nurse Consultant, Emma Floyd, and Neutral Bay GP, John Galicek who were interested in referring patients to accessible primary health care to prevent unnecessary visits to hospitals.
The drive was hugely successful attracting nearly 300 new members and raising the profile of the services SNHN provides to the Northern Sydney region.
Membership is a great way to keep up-to-date with the latest health news and research as well as form professional networks with likeminded healthcare colleagues. Joining is completely free and, as well as providing the opportunity to have a say on current and future health programs, members receive priority access to continuing professional education events, support, services, resources, advice, and networking events.
If you're interested in joining or would like further information CLICK HERE.