SNHN commissions services for social work and dementia
Sydney North Health Network aims to enhance access to and coordination of local primary health care services for people with chronic disease who need better support around psychosocial, health, social and welfare needs. We are pleased to announce the organisations that were recently successful in tendering for local social work and dementia support services, which are designed to reduce the likelihood of admission or re-admission to hospital.
KinCare
Kincare is an organisation that provides in-home health and wellbeing services to older people and people with a disability. SNHN is commissioning Remember Me, a dementia-specific hospital discharge pilot project. The primary goal of the project is to facilitate the smooth transition of a person living with dementia from hospital to home. It also aims to reduce re-admissions to hospital, and to ensure all parties in the client's support network are kept up-to-date through maintaining and improving communication. KinCare's services are person-centred, flexible and responsive to changing needs.
CLICK HERE for the KinCare referral form
CLICK HERE for the KinCare Remember Me Brochure
Just Better Care (JBC)
JBC is one of Australia's leading supplier of in-home support, enabling people to live independently, maintain their personal and social connections and enjoy a better quality of life. Stay at Home is a hospital discharge pilot project for people with dementia or suspected dementia who are being discharged from hospital and are at risk of re-admission. The project will provide participants with assistance through case management to link into services, supporting them to live as independently as possible in their own homes. A key component of the service is to ensure the patient's GP is kept well informed of the discharge plan.
CLICK HERE for Stay at Home brochure
CLICK HERE for Stay at Home poster
Community Care Northern Beaches (CCNB)
Access to timely and effective social work services is key to helping people stay Healthy at Home. CCNB will deliver this model through the provisions of a mobile team of experienced and qualified social workers who will work flexibly across the LGAs of Willoughby, Lane Cove, Mosman, North Sydney, Manly, Warringah and Pittwater.
CLICK HERE for the CCNB Referral Form
CLICK HERE for the CCNB Flyer for GPs
CLICK HERE for the CCNB Social Work Medical Direction Template (right-click and "Save as…")
CLICK HERE for the SNHN instructions on importing templates into Medical Director.
CLICK HERE for the CCNB Social Work Best Practice Template (right-click and "Save as…")
CLICK HERE for the SNHN instructions on importing templates into Best Practice.
Primary and Community Care Services (PCCS)
The funding provided to PCCS will allow the organisation to run a GP Social Work Support Program in Hornsby, Ku-ring-gai, Ryde and Hunters Hill, which adopts a patient-centred medical home approach to supporting the health, social and welfare needs of patients. The model works alongside a GP's normal model of care, and provides social work services in the community to assist patients to improve their health and wellbeing, better navigate the system, access needed support, and avoid unnecessary hospitalisations. Social workers will support GPs and their patients by facilitating and coordinating additional assistance, for example liaising with social, welfare and community providers.
CLICK HERE for the PCCS GP Social Work Connect Flyer
CLICK HERE for the PCCS GP Social Work Connect Referral Form
SNHN announces ATAPS grants
SNHN has issued grants to support various NGOs across the region that provide psychological services to vulnerable members of our community. ATAPS Grants were provided in the following health areas: Aboriginal and Torres Strait Islander youth; carers of people with disabilities; people that are at risk of suicide; and others with mental illness and that are aligned to the Department of Health ATAPS guidance on service provision.
Centre for Disability Studies
The Centre for Disability Studies will use one of the grants to run Intellectual Disability and Mental Health Training in the form of four 1-day education sessions. The four psychotherapy and counselling education sessions will include an introductory workshop, anxiety and depression, family and carer behaviour management support, and trauma response.
The program will be conducted with government and NGO staff working in counselling, social work and psychology.
The Gaimaragal Group
Balance Educate Empower (BEE 1) is all about community consultation and mapping of needs and service providers to better coordinate services for at-risk youth in the region. There are three components to Bee 1:
Run cultural activities to engage with youth and community members to build resilience and cultural/spiritual strength.
Conduct Healing Circles and Reflective Circles for youth with a buddy system comprised of a community member and social worker.
Produce a resource document and blue print for service provision in the region.
The Gaimaragal Group
Similar to BEE 1, BEE 2 aims to better coordinate service provision for at-risk youth. The programs work on three levels:
Meet with local school Principles to articulate needs of local First Australian youth.
Run two half-day presentations for community, parents and carers on trauma education to better provide services to youth in crisis.
Run two full day professional development workshops for staff. The workshop will outline the layers of trauma across generations and through communities with the critical need for generational healing. It will also cover the implications of historic, social, cultural, complex and developmental trauma, along with the theory and practice of an educated response to trauma.
Lifeline Northern Beaches
The grant given to Lifeline Northern Beaches will allow the organisation to employ an In Shift Supervisor for the 6am to 9am morning shift three days a week for twelve months.
Lifeline Harbour to Hawkesbury (H2H)
The Lifeline H2H Hoarding Disorder Treatment and Support Program offers a 15-week treatment group, a 12-week support group and a peer-led monthly support forum. The first program will commence in August 2016, with the second to follow in March 2017.
Over the past three years, Lifeline H2H has developed and refined their Hoarding Treatment Program and has skilled clinical staff that can deliver this program. The organisation has already run three programs (with 36 participants who have completed it) and is currently running a fourth program with 14 people enrolled. An analysis of results from Lifeline H2H's first three programs showed a mean improvement in hoarding-related behaviour of 29% by the end of the treatment.
Note: the program is based on the "Buried in Treasures Workshop: A Facilitators manual" (Shuer and Frost, 2011), an evidence based program developed in the USA.
Community Care Northern Beaches (CCNB) lead with NSW FACS – Greenway Wellbeing Centre
This Project will provide a Greenway-based social worker for a period of six months that will reduce the gravitational pull towards hospital services. The purpose is to identify mental health issues early on and disrupt the cycle of 'being lost in the system'.
It will create an effective community system that coordinates care between specialist providers, developing strong partnerships among GPs and ATAPS providers in the Northern Sydney Region.

A partnership to help patients prevent falls and stay independent
Did you know?

Many older patients are not aware that falls can be prevented, and the good news is that health providers are well-placed to engage with those who are at risk of falling.
What is the iSOLVE project?
The iSOLVE project, a partnership between the University of Sydney, the NSW Clinical Excellence Commission and Sydney North Health Network, aims to establish
integrated processes and pathways between general practice, allied health services, and programs to identify older people at risk of falls and engage a whole of primary care approach to fall prevention.
Despite strong evidence for effective interventions, the rate of falls is increasing nationally for both men and women. Hospitalisation rates in Northern Sydney have been consistently higher than the NSW average.
Involving GPs in fall prevention
According to fall prevention expert, Prof Lindy Clemson who is leading the iSOLVE project with her team of researchers: "Older people think that a fall may be just part of 'ageing' and do not think that they can actively do things to prevent a future fall. GPs can help their patients prevent falls and evidence shows us prevention begins with just a few simple questions."
"Primary care physicians report a number of barriers to evidence based care including lack of time during visits, other more pressing issues and a lack of educational materials."
"Targeted interventions are needed to improve fall prevention practice," said Prof Clemson.
iSOLVE algorithm, clinical decision support tools and resources
The iSOLVE team has developed a clinical decision tool and adapted resources based on the latest research evidence and practice guidelines. We anticipate that these will help GPs and practice nurses identify people at risk of falling and provide tailored management options. To facilitate patient referral, participating GP practices are also offered a list of trained fall prevention service providers in the local area. Sydney North Health Network is working with the iSOLVE team to engage GPs and practice nurses to implement the tool and resources in their practice.
GP randomised controlled trial. More than 30 GP practices in Northern Sydney have volunteered to trial the tool and resources in their practice. The trial is currently ongoing and practices are welcome to participate by expressing their interest HERE.
Surveys. GPs, GP registrars, and practice nurses are invited to participate in a quick 5-minute annual survey. The survey relates to current practices in fall prevention and will provide a forum for further development of local fall prevention resources and strategies.
CLICK HERE to participate in the survey (a small gift will be offered for each completed survey).
Workshops
Various workshops have been offered to service providers (GPs, nurses, pharmacists, physiotherapists, exercise physiologists, occupational therapists and podiatrists) in the Sydney North Health Network catchment area to facilitate service engagement, referral pathways and implementation of evidence-based fall prevention services.
Workshops include: exercise interventions, lifestyle-integrated functional exercise program, home environment interventions, medication management, and foot and ankle interventions. Upcoming workshops will be promoted on the SNHN website and included in the SNHN weekly Event Update.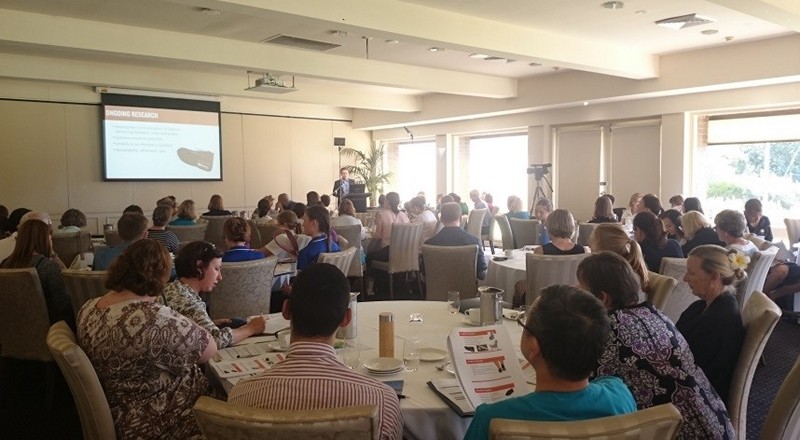 At the end of the research, Sydney North Health Network will continue to engage with GP practices and offer upskilling workshops to service providers in an effort to routinise fall prevention initiatives in the community.
Enquiries: CLICK HERE for more about the iSOLVE project. Alternatively, contact Dr Amy Tan, project coordinator, at 9036 7463 or amy.tan@sydney.edu.au.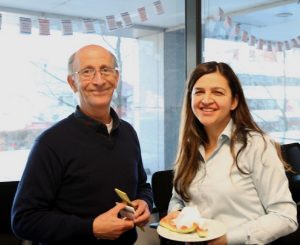 SNHN shows support on Dying to Know Day
To support D2KDay on Monday 8 August, SNHN hosted a morning tea event with staff and members of its board, to facilitate conversations around death, dying and bereavement. One of our board members and GP, Dr Stephen Ginsborg, spoke to us about the importance of having these discussions and making informed decisions about end of life planning.
When people develop their death literacy, they are better equipped to make end of life plans, such as writing a will and making an advance care plan. When these wishes are shared with families or friends, we will be better equipped to care for our loved ones experiencing death, dying or grief.
Surveys consistently show that between 60 and 70 per cent of Australians would prefer to die at home. Today only about 14 per cent of people die at home. Fifty-four per cent die in hospitals and 32 per cent in residential care*. Dying to Know Day is a good opportunity to start having these important conversations, and take useful action towards having a plan.
For more information on Dying to Know Day, CLICK HERE.
*Source: Swerissen, H and Duckett, S., 2014, Dying Well. Grattan Institute
[contentblock id=1 img=gcb.png]