Education Events – June '16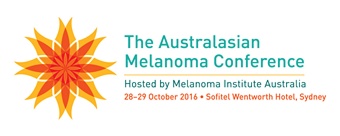 The Australasian Melanoma Conference 2016
Dr Robyn Saw and the Organising Committee invite GPs and Health Professionals to register for The Australasian Melanoma Conference 2016.
The two day program will feature keynote addresses by preeminent melanoma experts Vernon K Sondak, MD and Jennifer Wargo, MD, MMSc. Concurrent sessions will be scheduled and free papers available during the event.
To view the preliminary program, please CLICK HERE.
The Conference Program will be of interest to researchers, primary care and specialist clinicians, pathologists, students, trainees, nurses and allied health workers involved in any aspect of melanoma treatment, patient care or research.
Register now at the early bird rate and save. For more information about registration, please CLICK HERE.
Abstract submissions for original work is now open for consideration as an oral or poster presentation in the 2016 program. For guidelines on how to submit your work, CLICK HERE.
Visit the Conference website www.melanoma2016.com.au or join the e-newsletter to receive future updates.
For all conference enquiries: Please email: melanoma2016@arinex.com.au or phone +61 2 9265 0700.
Education sessions on Footwear an Orthoses
People from all walks of life are welcome to attend EnableNSW's upcoming education sessions on Footwear an Orthoses. The sessions are suitable for people unfamiliar with EnableNSW or new to footwear prescription. There are two sessions to be held at the EnableNSW Equipment Centre at Homebush, and facilitated by a Clinical Advisor, Podiatrist and Pedorthist.
Participants will learn:
What to consider when prescribing medical grade footwear.
The different specifications and features of prefabricated and customised footwear.
Tips for assessment and the process when requesting footwear through EnableNSW.
Participants can chose from two sessions:
| Session | Day | Time |
| --- | --- | --- |
| Footwear & Orthoses | 28 June 2016 | 1:00pm – 3:00pm |
| Footwear & Orthoses | 3 November 2016 | 10:00am – 12:00pm |
Act quickly because places are limited and will be allocated on a first come basis.
To register please email your booking / waiting list request to HSNSW-EAPVisits@health.nsw.gov.au specifying which session you are interested in attending.
You will receive a confirmation for the session you have been allocated to or if you have been placed on a wait list. If you are unable to attend an allocated session please contact EnableNSW as soon as possible so your place can be allocated to the next person on the waiting list.
[contentblock id=1 img=gcb.png]