With the opt-out period for My Health Record finishing on 15 November, GPs and practices may be asked for more information by patients.
If GPs would like to know how to talk to patients about My Health Record to address concerns, this video called "the Opt Out Conversation", may help. The Digital Health Agency has a number of other useful videos which can be also be viewed there.
Using dummy data on the ADHA's (Australian Digital Health Agency) online "On-demand Training" system, GPs have the opportunity to view documents and practice various actions on their clinical software of choice, including MD and BP. The On-demand training portal can be accessed here.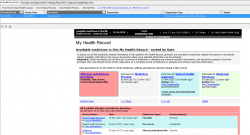 Sample view of dummy data using Medical Director on the On-Demand Training Portal
For more information and / or to book a training session with the Digital Health Team, in your practice at a time to suit you, please contact the team on 9432 8250 or e.-mail: April Burnett – aburnett@snhn.org.au or Kyle Langston – klangston@snhn.org.au