Hornsby Village Hub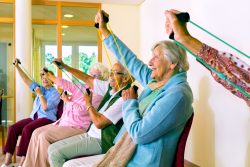 Hornsby Village Hub
The Hornsby Village Hub for Seniors is a new community led initiative coming in 2022. The new Hub will aim to tackle social isolation and loneliness experienced by older Australians (55+ and Indigenous 50+) living in the region by connecting community members and introducing them to a range of activities and services either existing or new across the shire.
The Hub will not be located within a fixed place, but instead at agreed locations dependent on the needs of its member at the time, creating opportunities for like-minded individuals to participate in group activities to support their own wellbeing, active ageing and strengthen their connection with other hub members.
The activities offered by the Hub will be inclusive and allow members to participate according to their needs, preferences, and capabilities. Activities will be chosen by a committee but may include events such as walking groups, coffee mornings, art classes, book clubs and a guest speaker program. The Hub will also run on a membership model to help participants feel a sense of belonging and ownership.
For more information or to register your interest for the Hornby Village Hub please contact Brooke Grimsted, Community Connections Officer at e: villagehub@snhn.org.au or call (02) 9432 8250 or M: 0424 960 637
Hornsby Village Hub Seniors Art Competition
A call for Art Entries
Do you have artistic talent and live or work in the Hornsby Shire?
Sydney North Health Network (SNHN) in partnership with Hornsby Shire Council is calling for artistic entries from Senior community members interested in creating the visual identity of a new community-led initiative, the Hornsby Village Hub.
The Hub itself will not be located within a fixed place or space, but instead represents community within community for its members who will meet at agreed locations dependent on their need. As a result, a visual artistic representation of what 'connectedness' in the Hornsby Shire Senior community looks like will help its members to feel a sense of belonging and ownership.
The chosen artistic representation of the Hornsby Village Hub may be used across the Hubs branding, marketing, and communication assets and the winning artist will receive $2000 AUD in prize money.
TERMS & CONDITIONS
The Promoter is SNPHN limited ABN 386 053 538 84 ("Promoter").
Instructions on how to enter and claim form part of these terms and conditions.
Participation in this Promotion is deemed acceptance of these terms and conditions.
CONDITIONS OF ENTRY
A qualified entrant must meet the following conditions of entry ("Qualified Entrant")
This Promotion is only open to Qualified Entrants who are:
Senior members of the Hornsby Shire community who live or work in the area. Participants must be 50 years and over.
Employees (and their immediate families) of the Promoter are ineligible to participate in this Promotion.
The artistic requirements include:
The artwork submitted by the artist must visually represent the Hornsby Village Hub and its aims to deliver social cohesion and connectedness for people aged over 50 years living or working in the Hornsby Shire.
Artwork must be from one of the following mediums: painting, illustration, multi-media digital graphics or photography. Any other format e.g., film, audio, animation, sculpture, or 3D cannot be accepted.
Supplied artwork must be no larger than A3 size and no smaller than A4.
The finished artwork must be supplied as original or emailed as a hi-resolution digital file (e.g., png, pdf or jpeg).
All artwork becomes the property of the Hornsby Village Hub, and all licensing rights are reserved for the Hub's use.
Participants are to submit their own original work and if their artwork is selected as the winning design, they must supply the original artwork to Sydney North Health Network.
As a condition of entering this Promotion, an Entrant consents to, in the event they are a Prize winner, the Promoter using the Entrant's name, in any media or publication for an unlimited period without further notification, remuneration or compensation for the purpose of promoting, publicising, or marketing the Promotion (including any outcome).
CONTEST PERIOD
The Promotion is open for those who have submitted artwork between 12.01am AEST on 01st December 2021 and 11.59pm AEST on 31st January 2022 ("Contest Period").
HOW TO ENTER
To be eligible to participate in the Promotion, Qualified Entrants must, during the Contest Period:
Submit entries to villagehub@snhn.org.au or post the original artwork copy to PO Box 1083, Chatswood 2057, or deliver to Level 5, Tower 2, 475 Victoria Ave, Chatswood 2067.
WINNER
In the week commencing 14th February 2021 the Volunteer Hornsby Village Hub Committee will select one qualified entrant as a winner.
The winning entrant will receive an email within 3 business days about how to claim the Reward.
The Reward is $2,000 AUD.
OTHER GENERAL TERMS & CONDITIONS
The Promoter (including its directors, officers, employees and agents) reserve the right, at any time, to verify the validity of claims and the Qualified Entrant (including the Entrant's identity, age and place of residence) and reserve the right, in their discretion, to disqualify any individuals who they have reason to believe has breached any of these terms and conditions, tampered with the claim process or engaged in any unlawful or other improper misconduct calculated to jeopardise fair and proper conduct of the Promotion.
The Promoter (including its directors, officers, employees, and agents) is not liable for lost, stolen or damaged Rewards, and to the extent permitted by law do not make any contractual promise or representation regarding the quality and/or availability of the services offered and cannot be held liable for any resulting personal loss or damage.
The Reward is subject to availability. If the Reward is unavailable, for whatever reason, the Promoter reserves the right to withdraw or substitute the Reward for a reward of equal value and/or specification, subject to any written directions from a regulatory authority.
In the event that for any reason whatsoever a Qualified Entrant does not take or claim a Reward (or an element of a Reward) at or by the time stipulated by the Promoter, then that Reward (or that element of the Reward) will be forfeited and cash will not be awarded in lieu of that Reward (or element of the Reward).
Personal information (PI) is being collected by the Promoter in order to conduct this Promotion. For this purpose, the Promoter may disclose PI to third parties, including but not limited to their employees, agents, contractors, service providers, suppliers and, as required to under any applicable law, to regulatory authorities. Participation is conditional on a claimant providing the Promoter this PI. The Promotor will use and handle personal information as set out in its Privacy Policy, which can be viewed at its website: https://sydneynorthhealthnetwork.org.au/privacy-policy/