&gt
Health Professional News
These resources have been designed by culturally and linguistically diverse community focus groups.
The RACGP has just released the third edition of the Putting prevention into practice: guidelines for the implementation of prevention in the general practice setting.
The Dept of Health have developed a resource to assist healthcare providers to engage with specific groups of under-screened and never-screened women and to support them should they choose to participate.
Healthdirect Australia has developed some excellent resources to help consumers protect themselves, distinguish between flu and a head cold and manage their symptoms through the ills and spills of winter.
Update on headspace strengthening our region's youth mental health services.
Fit and healthy mother of two, Regina Marchant, was diagnosed with breast cancer by BreastScreen NSW in August 2014, just two months after her 50th birthday. Screen for early detection of cancer today, don't delay.

With the increasing demand and to maintain the quality of events, from 1 July 2018 onwards, SNPHN will charge non-members a standard fee of $70 for attending some education events.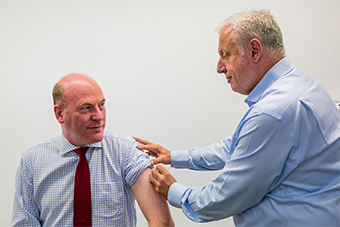 On Fri 27th April, Federal Member for North Sydney Trent Zimmerman MP dropped by the practice of SNPHN Chair and local GP Dr Harry Nespolon for his annual flu shot.
Burnout prevention is an intentional routine to ensure we are as resilient as we need to be as health and helping professionals. Here are 6 tips to maintaining balance.
Winter is on the way. It's the season most associated with the hardship of illness such as influenza. Influenza or "the flu" as it is commonly called, is usually identified as a mild illness, but for children under five years of age, pregnant women, and people over the age of 65 it can be severe and occasionally fatal.