&gt
About
&gt
Our Councils
&gt
Community Council
Community Council
The Sydney North Primary Health Network Community Council comprises of health consumers who want to lend their voice and help shape local healthcare.
Members of the Community Council help inform the SNPHN Board on local health matters, priorities and gaps.
The SNPHN Community Council has broad representation across the following sectors – Aged Care, CALD, Youth, Aboriginal, Disability, Law, Community & Family Health, Chronic Disease, Workforce Health, Mental Health, Carers, Governance, Veterans Health and Homelessness.
In 2015/16 the Community Council provided guidance, expertise and feedback to SNPHN in the following areas:
Communications, Engagement & Health Literacy
After Hours campaign
Digital Strategy (including website, social media and online health polling)
Quality Improvement in Healthcare
Community Health Education
Community engagement in establishment of HealthPathways
For more information about the SNPHN Community Council click here for the Terms of Reference.
Your Voice
The Sydney North Primary Health Network (SNPHN) Community Council will give the community an important voice in local healthcare. Individual members of the community will work together, and in tandem with SNPHN Clinical Council (GP and Health Professional led), to achieve better health outcomes for the people of Northern Sydney.
Together the two Councils will help inform the SNPHN Board and Management on local health needs, priorities and gaps, and to help shape local services and programs.
The Community Council will focus on facilitating effective, person-centred primary healthcare to improve the overall health of our population and to reduce avoidable hospital presentations.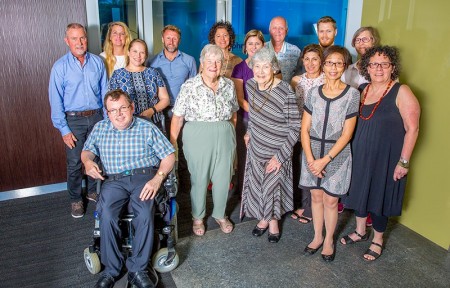 Top row L to R:  Paul Stuart, Sherryn Moltzen, Neil Davies, Brynnie Goodwill, Bryce Gunn, Ben Webb, Janet Grant
Mid Row L to R: Naomi Stevens, Mary Potter, Lynelle Hales, Betty Johnson, Annette Bewicke, Rita Leung, Julie Hendicott
Front Row:  Adam Johnston
Absent:  Jane Rothman, Meenakshi Chopra, David Grant-McGuinness